Visual Natures: The Politics and Culture of Environmentalism in the 20th and 21st Centuries
maat – Museum of Art, Architecture and Technology, Lisbon
30/03 – 05/09 – 2022
This research project is product of critical investigations around climate science, creative practices and eco-politics developed at maat museum over more than two years during my tenure as executive director, and therefore continues the journey started in 2021 with the data-driven installation Earth Bits – Sensing the Planetary and the public programme "Climate Emergency > Emergence", curated by the first Climate Collective.
Visual Natures surveys political, social and cultural forms of collective agency that, over the course of the last one hundred years or so, demonstrate how the transforming human understanding of "nature" – philosophical, biological, economic – informs the ways in which we organise, sustain and govern our communities as an expanding planetary construct, both in concept and practice.

Loosely following a chronological order from the 1950s until today, the resulting mapping cross-references four subjects of analysis: artistic production and cultural events, technological innovations and scientific findings, social movements, and deliberations of global governance.
The presentation defies the challenge of its encyclopaedic character by way of a thematic organisation along three main concatenated clusters – "Deep Ecology (1950s – 1980s)", "The Planetary Complex (1990s – 2000s)", "Multinaturalism (2010s – present day)" – each converging around expanding meanings of "ecology" and environmentalism that from the 1960s onwards have grown central in international public and cultural debates as phenomena of global growth, natural resource scarcity and pollution became provenly intertwined.
Deliberately appropriating an expression by architect and artist Paulo Tavares (member of the maat Climate Collective 2021), "visual natures" points towards a post-anthropocentric, non-hegemonic politics and aesthetics of environmentalism to emerge as a democratic and egalitarian paradigm of coexistence within nature that transcends human-centred worldviews and refuses the ecological and social violence of extractivism.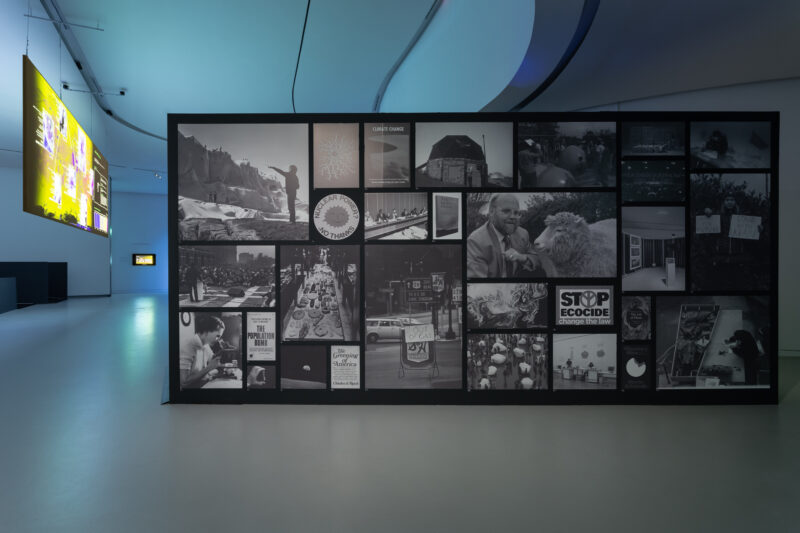 Commissioned to the Brazilian architect Carla Juaçaba, the spatial design in which the research is presented takes inspiration from "The Conference of the Birds", a Sufi parable written in the 12th century by the Persian poet Farid al-Din 'Attar – a moral allegory of sovereignty and truth-seeking through shared sacrifice. According to her: "The exhibition design is a conference space in which we (humans) are birds discussing a new ordering between nature and man and between science and democracy, while redefining the idea of progress."
The research is presented in a custom digital interface designed and developed by the studio dotdotdot. You can browse the multimedia contents – images, videos, texts and audios – following the three main thematic chapters chronologically distributed across the 42-seat assembly designed by Carla Juaçaba, each provided with a touchscreen. Read more about it here.
Environmental discourse seizes the fate of economies and entire populations, and while we remain far from shared consensus on coordinated climate action, it increasingly motivates collaborative commitment from various scientific and technological fields, inspires educational curricula and youth demonstrations, and animates artistic debate and intellectual activism across a generational expanse and disciplinary fluidity of engrossing development.
Visual Natures aims to shed light on the facts and phenomena that lead us here. To disentangle the precursory designs of our present, to learn where we come from and where we can be headed.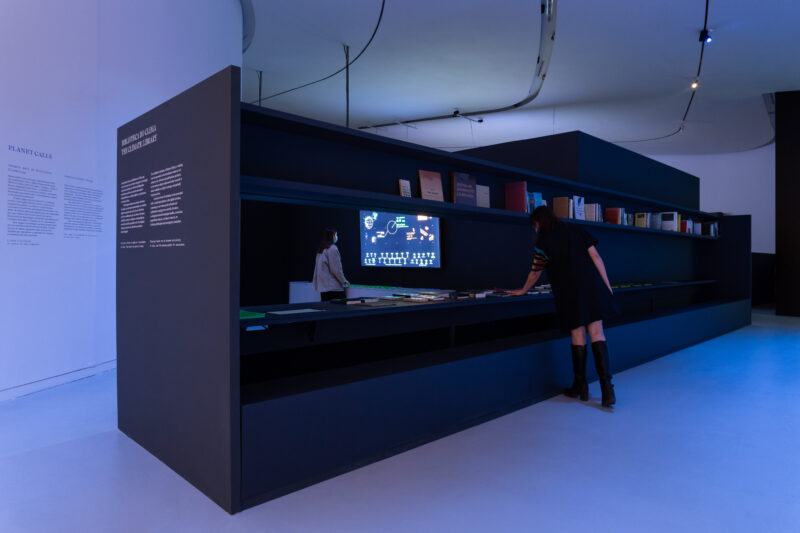 The Climate Library
The exhibition includes a Climate Library, a reading area incorporated in the installation where a vast reference list of books and publications pertinent to the various subjects addressed in the research is made available as a digital catalogue and partially in physical form. See more of the digital interface here.
A selection from this database is also presented with in-depth descriptions in the digital interface, composing a vast reference list of books and publications ranging from scientific literature, sociological and anthropological studies, economics, geopolitical analysis, to cultural research, art criticism, philosophy and investigative journalism.
Credits
Art Director and Initiator: Beatrice Leanza
Research and curatorial team: Beatrice Leanza, Nuno Ferreira de Carvalho, Rita Marques, Camila Maissune, Maria Kruglyak, Amir Halabi, Bárbara Campos
Interaction design: dotdotdot (Alessandro Masserdotti, Laura Dellamotta, Fabrizio Pignoloni, Giovanna Gardi, Nicola Buccioli, Mariasilvia Poltronieri, Davide Bonafede, Simone Bacchini, Nicola Ariutti)
Installation design: Carla Juaçaba
Visual identity: Lisa H. Moura (maat)